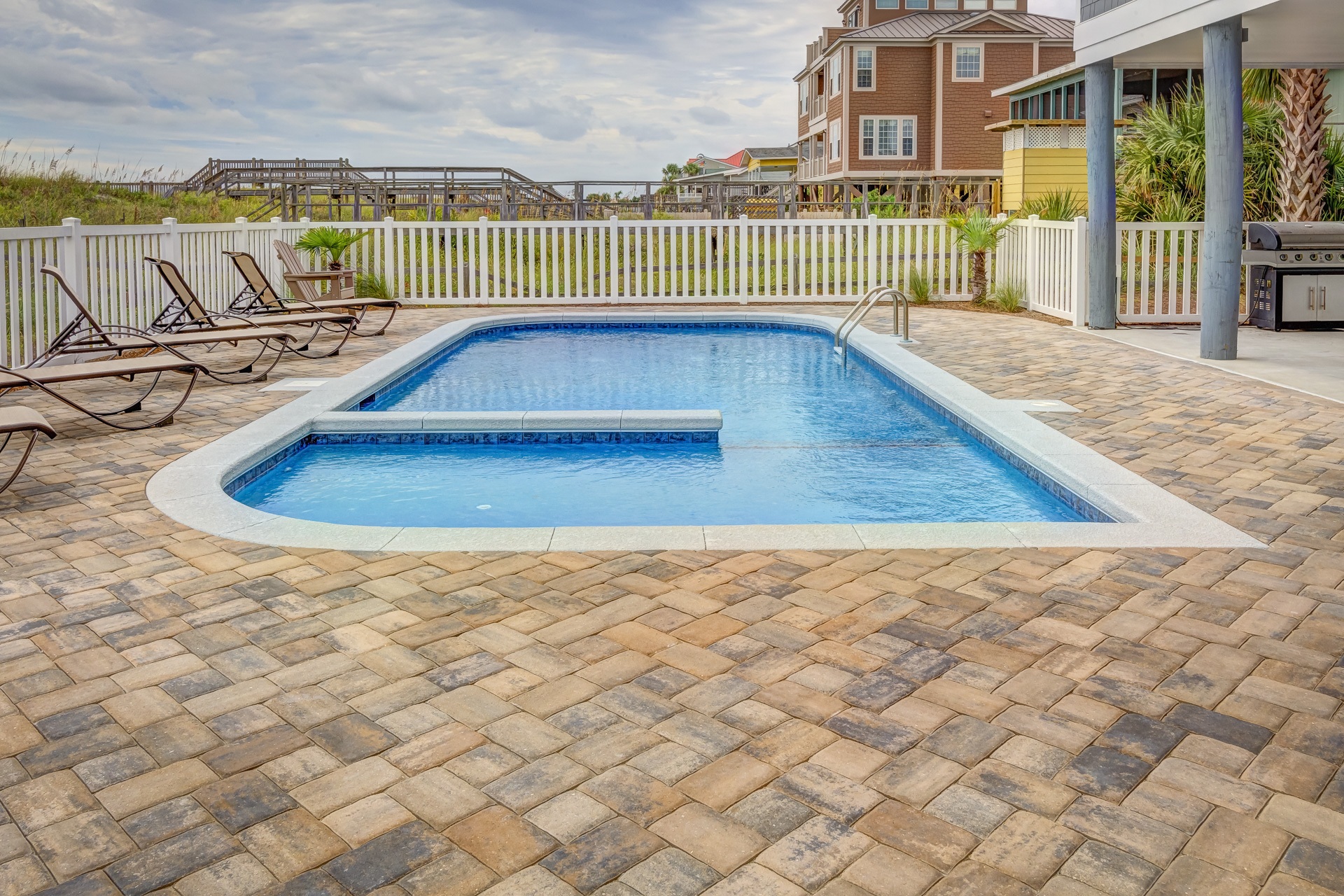 Creating a Backyard Pool Oasis That's Worthy of Your Presence
Much like fireflies, tiny homes, and giant pandas, backyard pools have become a symbol of America. There's nothing like relaxing outside in the sunshine while enjoying your own private backyard pool oasis.
But deciding whether to build a pool can be a stressful process. It's easy to get wrapped up in beautiful, extravagant designs and features. But this checklist can help make sure your new pool will actually fit into your backyard.
Let's get started.
Planning the Layout and Design
Planning the layout and design for your backyard pool oasis is essential in creating an inviting and relaxing atmosphere. Choose the perfect tile and hardware materials to fit the style and color of the environment.
Add a privacy fence, lush landscaping ideas, and lighting accents to complete the backyard paradise. Incorporate natural components like stones and pavers or multi-level plantings. You can also add patio furniture and outdoor décor like umbrellas, string lights, and lounge chairs.
Select a pool filter and heating system to keep the water at the perfect temperature. With careful planning and thoughtful design, you have the potential to create a relaxing backyard pool oasis.
Choosing the Perfect Pool Style for Relaxation
When it comes to choosing the perfect pool style for relaxation, there are a variety of options to consider. The right pool style will depend on your personal preferences, the available space in your backyard, and the overall aesthetic you wish to create.
Here are a few popular pool styles known for their relaxing qualities:
Infinity Edge Pool
Also known as a vanishing edge or negative edge pool. It creates s the illusion that the water extends infinitely, blending seamlessly with the surrounding landscape. Infinity edge pools offer a sense of tranquility and serenity, especially when overlooking a beautiful view such as a lake, ocean, or mountains.
Natural Pool
A natural pool, often referred to as a lagoon-style pool, is designed to mimic the look and feel of a natural body of water. These pools typically feature irregular shapes, rock formations, and lush landscaping to create a serene oasis. Natural pools often incorporate waterfalls, stone accents, and vegetation, providing a more organic and relaxing atmosphere.
Mediterranean Pool
Inspired by the luxurious pools found in Mediterranean villas, this style exudes elegance and relaxation. Mediterranean pools typically feature geometric shapes, often rectangular or oval, with clean lines and classic tile designs. Adding elements like a sun shelf or a built-in spa area can enhance the relaxation factor.
Lap Pool
If you enjoy swimming for exercise or simply desire a long and narrow pool, a lap pool might be the perfect choice. Lap pools are typically rectangular in shape and designed for swimming laps. They offer a clean and minimalist aesthetic, ideal for creating a serene environment for swimming and relaxation.
Spa Pool
A spa pool, also known as a spool or cocktail pool, combines the relaxation benefits of a spa with the refreshing qualities of a pool. These smaller-sized pools often feature built-in seating, jets for hydrotherapy, and heating options, creating a cozy and intimate space for relaxation and stress relief.
Modern Pool
For a sleek and contemporary look, a modern pool design can create a serene ambiance. These pools often feature geometric shapes, clean lines, and minimalistic elements. Incorporating features like underwater lighting, a minimalist deck, and a minimalist color palette can enhance the overall relaxation experience.
Inspiring Ideas to Make Your Pool an Oasis
Creating a backyard pool oasis starts with a clear vision of what you'd like to accomplish. Ask yourself if you want the pool to be enclosed for privacy or open to the elements. What kind of furniture will you need to create a cozy and relaxing atmosphere?
Once you've decided on these things, it's time to get to work. Add a pergola for shade, a few cozy benches, some plants, and trees to create a welcoming ambiance, and cushions for extra comfort. Add some mood lighting to set the atmosphere in the evening, and make sure your filter system is up and running.
Most importantly, make sure you secure a reliable cleaning system that will keep your pool as inviting and immaculate as you'd like. With these inspiring ideas, your pool oasis will be worthy of your presence and ready to be enjoyed all season long.
Tips for Low Maintenance and Upkeep
A relaxing backyard pool can be made easy and low maintenance with the right tips and tricks. One of the most important aspects of maintaining a backyard pool oasis is regular water testing and pool cleaning. This ensures that your pool stays safe and healthy for swimming and that algae and bacteria don't take hold. It also helps to ensure the pH levels stay consistent.
To minimize water loss, consider using a pool cover. This will help reduce the water that evaporates over time, reducing the amount of water you'll need to add when refilling your pool. Investing in a good pool filter system is also a must, which will keep your backyard pool up and running smoothly.
You should keep the area surrounding your pool free of debris and plants to reduce problems with pests. Ensure to regularly hire a professional residential pool leak detection service for your property's safety.
Build a Backyard Pool Oasis Today
Creating a backyard pool oasis that is worthy of your presence may not be easy, but it can be done. From the initial setup to day-to-day maintenance, make sure you allocate ample time and resources to create the backyard oasis of your dreams!
Start today and take the necessary steps to make your outdoor dreams a reality!
Did you find this article helpful? Check out the rest of our blogs!