Household & Real Estate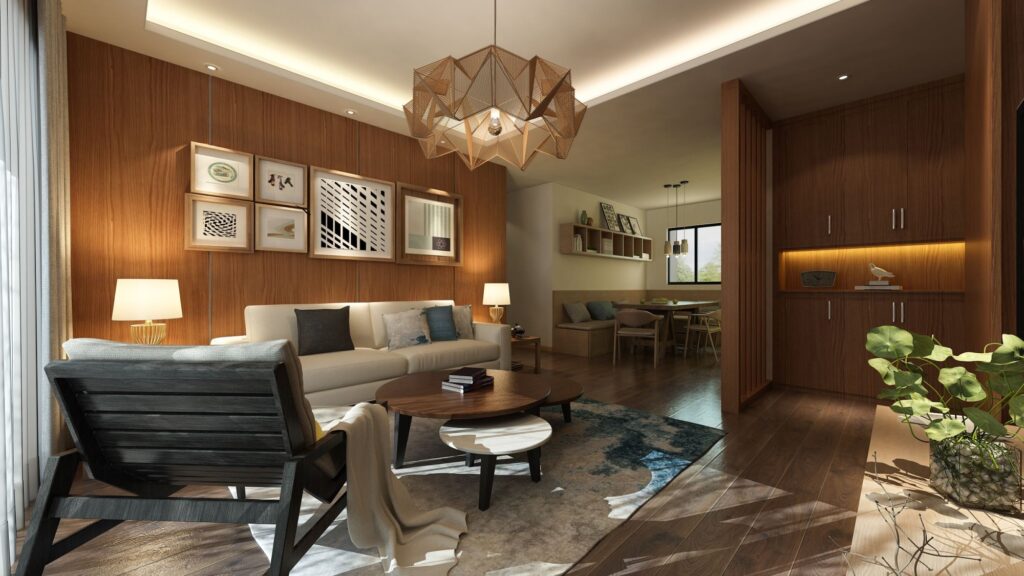 Lighting Design for Living Room Spaces: The Complete Guide
The kitchen might be the heart of the home, but everyone always seems to congregate in the living room. Whether you're watching movies, working on a project, or simply talking over coffee, you want this space to feel plush and comfortable.
At the same time, you also want it to be well-lighted. The right lighting can make this area feel cozy, warm, and inviting, while the wrong setup can have the opposite effect.
Today, we're breaking down how to tackle lighting design for living room spaces. By applying these steps, you can make sure this part of your home is well-suited to your family's needs.
Illuminate Niche Areas
When searching for living room lighting ideas, be sure to take the shape of your space into account. For instance, do you have any little jut-outs or niche spaces? These are usually set aside from the primary gathering spot, and you might use them as a reading or game nook.
A large lamp or overhead can light might be overpowering in this small area. Instead, install a mini pendant! Depending on the layout, you can attach one to the ceiling, or add one or two on the surrounding walls.
This is an easy way to add a little personality and practicality to a space for a very low cost. You can find plenty of budget-friendly pendants both online and in stores.
Express Personality With Lamps
You don't have to go overboard, but feel free to play around a little with the lampshades you choose for your living room! These are easy to swap out, so you don't have to feel committed to a particular look.
When shopping, think about the living room atmosphere you want to create. Then, look for shades that can help you bring this vision to life. For instance, soft floral patterns evoke a romantic, traditional mood while funky geographic motifs are decidedly more modern.
Draw inspiration from the other pieces in your living room, and look for shades that will complement or tastefully contrast those colors and patterns. To avoid looking like you shopped for the entire space in a big-box store, don't match your lampshades to your pillows or throw blankets too closely.
Add a Statement Chandelier
Who says you have to rely on flush-mounted lights alone to illuminate your living room? Especially if your ceilings are a little on the taller side, why not give them the attention they deserve with a gorgeous chandelier?
From contemporary bulb-style fixtures to ornate classic ones, you can find many different styles. Hang it high enough so that it won't distract from your television or main focal point, and you'll love coming home to it.
Include Task Lighting
When you envision your ideal living room, you likely think about a few different areas. There might be one primary sitting space, where your family loves to gather. Then, there's a reading spot, a work-from-home area, and maybe even a game section for the little ones.
You can designate each space by using special task lighting in those areas. For instance, floor or table lamps are great for workspaces, while overhead lights are best for any area where little hands might tend to wander.
Remember Accent Lights, Too
While task lighting is important, make sure the lighting in your living room does more than simply serve a purpose. You can also incorporate attractive accent lights that beautify the space and add tons of character.
Looking for an easy and economical way to bring in some flair? Hang a few paintings or pieces of artwork that you adore. Then, hang horizontal picture lights above them!
This draws your eye to the pieces and helps set them apart from the rest of your decor. Other types of accent lights include little decorative lanterns, candles, and modern wall sconces.
Use Recessed Lighting Where Appropriate
Recessed lighting often gets a bad rap from style-savvy designers. However, it can serve a valuable function, especially if your ceilings are eight feet or lower.
A ceiling chandelier can overwhelm those small spaces, and you might not have room for different types of lighting. In this case, overhead can lights can work well. They tend to disappear into the ceiling, and your eye rarely goes to them.
However, when you flip that switch, you'll certainly know they're there. When outfitted with long-lasting LED bulbs, recessed lights can deliver a substantial amount of illumination for a fraction of what you'd pay for a more elaborate fixture.
Plan For Future Flexibility
Think about your current living room layout. Do you plan to keep all of your pieces in the same spot forever, or do you want to mix things up a little over the years?
If it's the latter, then buy light fixtures that you can adjust and move as required. For instance, a floor lamp with a few movable arms is more convenient than a rigid one that sits upright. This way, users can reposition the lights as required, no matter where they're sitting.
You can also look for swing-arm lamps that attach to your walls or work as free-standing pieces. These offer the ultimate in customization and look great with any living room design. When you invest in pieces that you can use in a few different ways, then you increase the ROI on your purchase and ensure you'll use them for years to come.
Optimize Your Lighting Design For Living Room Spaces
Lighting can make a major difference in the way your home looks and feels. While the sheer volume of options can be overwhelming, as long as you stick with your personal preferences and take your room's function into account, then you can't go wrong!
Ultimately, the best lighting design for living room spaces is one that you love using time and again. Choose timeless pieces you love, and arrange them in a way that fits your family's needs.
In the meantime, we're here to keep you updated on everything lifestyle-related. Check back often for more informative guides!